All of the top 6 having taken the top step of the podium, with the exception of Mike Busson, there is some tight battling all the way through the field.
With 3 drop weeks applied, Simon Edwards currently sits at the top of the table with a 20 point lead. But should Simon have a bad race, Mike Busson, Luke Maxwell & Paul Crabb are all poised to take the lead in the championship.
Due to unfortunate circumstances Paul Crabb, a previous champion, has had to miss 3 weeks of racing which has hampered his current title challenge, but refreshed and raring to go, he might make a charge up to dethrone Simon at the top of the table.
Nobody can completely rule out Mike Busson – except for Mike himself – who continually surprises us with his creative ways of throwing away a potential race win. What's next Mike? Or has he run out of ideas and will be forced to finally take victory.
Newcomer to the RRS Ben Underdown has impressed with his clean driving, only racking up 1 incident point all season. Can he continue his impressive form?
Paul Le May and Graham Brown are currently separated by 4 points, with myself missing the first 3 races and Paul, having some unfortunate incidents, has kept this battle alive after drop weeks being applied.
Paul Clark of iLounge Racing, the generous sponsor of the series and host of the May meetup, continues to perform & finish strongly. He needs to keep this form up if he is to hold off Dave Rolleston.
Dave missed the last round at Road America, following a strong finish in Fuji. He has a small lead over Michael Le May who has racked up some consistent finishes. At Road America Michael was one of only 2 drivers to finish without any incident points.
Damian Gee with his lightning quick starts sits 5 points adrift of Michael Le May. In the last 6 races Damian has finished above his qualifying position. And he is going to need to keep up this form as Jamie Bird is a handful of points behind him.
Having started only in 5 of the last 8 rounds, Jamie Bird cannot rely on drop weeks anymore to finish well this season. After a DNF at Road America Jamie isn't making it easy for himself, and I also don't expect that he'll make it easy for the other drivers.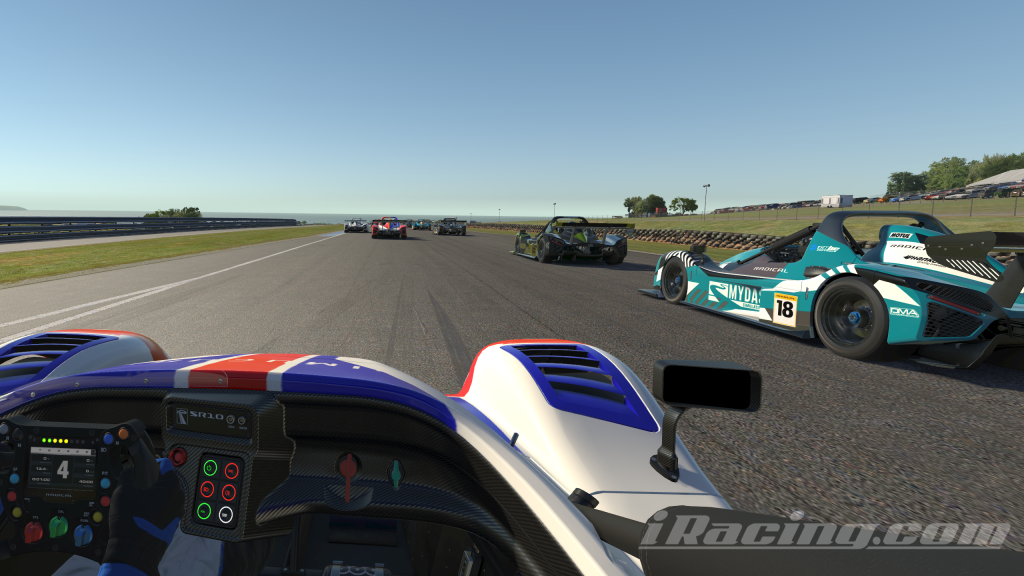 Oliver Ettridge started the season strongly, but has missed half of the races so far. Should he return this season, he could well make an impact near the top of the table. After 6 starts to the season Phil Glover has already used up 2 drop weeks, he will need to avoid any big incidents, as he is only 4 points behind Oliver & 11 behind Jamie Bird. Phil can certainly take a few more positions before the end of the championship.
James Childe & Graeme Brown are at loggerheads, on equal points all is to play for. With both drivers having missed a few rounds, drop rounds for bad results won't come into play. James' race finishes have bettered his qualifying position at every race he has attended this season, and Graeme has had some strong, entertaining battles this season. So let hope that these guys duke it out on the track.
Phil Jocelyn is 2 points below James & Graeme and 1 point above Darrell Taylor & Scott Lear. A couple of strong finishes could see him leapfrog a couple of drivers, while some poor finishes could also see him leapfrogged by a couple of drivers.
Darrell Taylor has had some solid finishes this season, with the last round at Road America being his strongest of the season. His only let down being the number of race starts this season. Surely Darrell will jump some positions in the final rounds.
Like Darrell, Scott Lear has had some strong finishes this season. Having missed 3 rounds already, his 2 DNFs won't be taken into account by drop weeks. Having shown some good pace in previous rounds Scott will be looking to improve his points tally before the season closes.
Plagued by DNF's this season Dave Dowson hasn't shown his full potential yet, but if he can keep out of trouble Dave can secure some good points.
Following a strong start to the season Colin Wynn has had some unfortunate incidents & absences of late. When Colin finds back to his previous form, surely he will leap up the table.
Sadly Martina has had a troubled first half of the season, but we all know Martina is a strong driver, who's current points tally doesn't reflect her talent.
Honourable mentions to the following drivers who have attended 2 or 3 race meets so far. Austin Greatorex, Dan Webster, Dominic Laing-Webb, John McHutchison, and Richard Brown. We would love to see you back on track with us soon.
---
---
Want to Join the RRS next season?
The UK&I Radical Race Series league is now entering into its 10th consecutive season. The league is open to drivers from the UK&I Club of all abilities.
Entry to the league is free, on a first come, first served basis. License requirements are in line with the official iRacing Radical Racing Challenge series. You must hold at least a D 4.0 road license.
The league follows the schedule of the official iRacing Radical Racing Challenge series with the benefit of Open Setups.
Events take place every Thursday. Practice starts from 7:00pm and the race is at 9:00pm (UK time).
Discord link: https://discord.gg/pWgFVUFH