Sandro: Congrats for making it to 3rd place in season 3 of the Radical Racing Challenge!
Oscar: Thanks a lot! Really happy about this!
Sandro: Was that something you worked towards?
Oscar: Well, honestly I had no expectations at the start of the season with the new SR10. I liked the car, but I had to adapt to make it perform, and the level of competition was very high. My goal was to win a few races and end up in the top 10 of Division 1. So I had to become a more consistent and faster driver, while limiting mistakes on track. However, race after race the feeling and pace got better and in Sebring I found the pace to compete with the best. Made some pole positions but above all, won several races, grew in self-esteem and improved myself onwards.
Sandro: How did you find your way into simracing?
Oscar: I started thanks to my brother, who has been simracing for about ten years now. I tried it occasionally at his house and liked it a lot, especially the immersion of virtual reality. In the summer of 2020 I got a system on my own and immediately got on iRacing, because the possibility to race at any time of day against anyone in the world is fascinating. And here we are.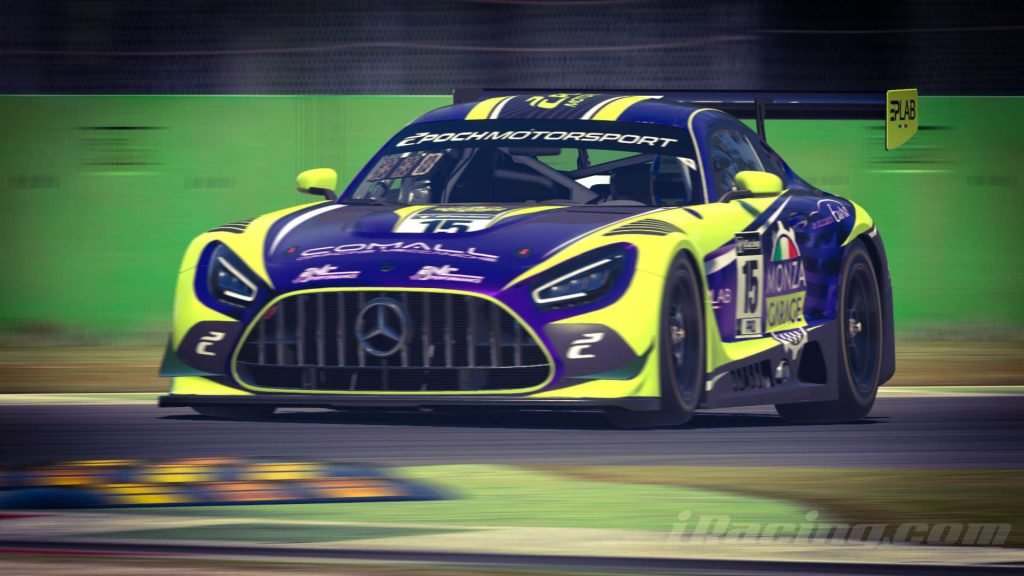 Sandro: Your iRacing Profile says you are karting. As a hobby or is there more to it?
Oscar: I started karting when I was 16. My father took me to the tracks, with the kart on the roof rack. That was back in 1995, a lifetime ago! The passion grew and the desire to race and compete made me start in the regional 100cc Championship. But I had to stop for a few years, because it was not easy to find time and money to compete.
Then in 2007 I started again, thanks to engine tuner Alberto Iachelli and my friend and track mechanic Gianmaria Vincenzi, who made me race for their team with 125cc karts. We won many trophies, regional championships and I even came close to the podium of the Italian Championship, which I ended in fourth place among over 80 drivers.
Since I stopped racing myself, I work as a mechanic in 125cc. Participating in international trophies, European and World Championships, but unfortunately not lucky enough yet to win them.
Sandro: With the introduction of the SR10, everyone had been somewhat of a rookie during the last season. How did you manage to extract so much out of the car?
Oscar: In the beginning it was love and hate. I liked the car, but the braking was really complicated, with the need to adapt to the fixed setups. I looked at the fast drivers, observed what they did and how they drove, which helped me very much to understand the limit of the car, where I was wrong and why.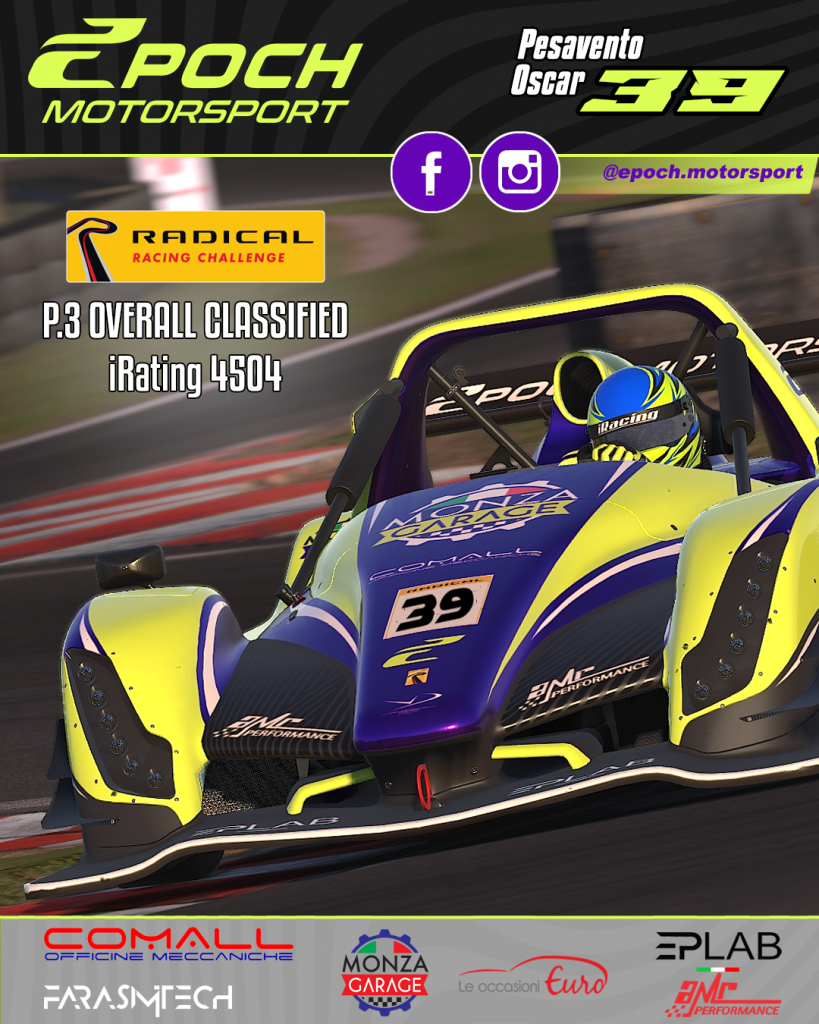 It was not easy, because it takes a lot of practice to apply what you have learned, especially when you have to get rid of bad habits. And as it often happens, you go fast when you seem to go slow. That's because when you don't make mistakes and corrections that slow you down through corners, the lap time will thank you for that. Same counts for tire management, at some tracks it was a big challenge to arrive safely at the finish line while maintaining the pace.
Sandro: You are part of the EPOCH Motorsport Team. What is the team about?
Oscar: Epoch Motorsport is above all a group of friends united by the passion for simracing. Despite having entered the world of online racing just over a year ago, the team boasts highly respected drivers with iRatings above 5000/6000. That helps those who want to improve, by watching and learning. We are a united and humble group where everyone helps each other.
At the moment all the drivers are Italians. The team shares telemetry, so that everyone has the input needed to improve, and we have our own discord server for more technical communications.
We try to be as professional as it gets, without forgetting that this is about fun and we want to do it with a smile. But of course, nobody likes to lose, not even us! 🙂
Sandro: What's your role within the team?
Oscar: I am part of the board, I take care of the social management via Instagram, and the management of the registrations of the drivers for the team in private races or championships. We have divided the roles to have a good organization and be precise with the needs that a SimRacing Team needs.
Sandro: Where can we meet EPOCH drivers on the virtual track?
Oscar: In season 4 we will be present in different categories of iRacing, our reference Sim. I will do some races in Radical, but I will dedicate myself above all to the Dallara F3 together with other teammates. Other categories where you will find our colors: LMP2 and ESS, GT3 and GT Sprint, Formula Renault 2.0, IR04, Dallara F3 as well as the iRacing Special Events.
Sandro: In 2021 you finished on P1 in Division 2 of the Formula Renault 2.0 series. Now you are going to race the Formula 3?
Oscar: Me and two other teammates, Diego Merli and Luca Morelli, qualified for the Italian ACI F3 Championship – after a tough selection that allowed the first 30 drivers out of over 60 entries. So the field is really competitive and of the highest level. The championship will find it's showdown in December. It will be three very intense months on the F3, and we hope to honor the Epoch Motorsport colors!
Sandro: Wish you all the best for that! Thanks for taking the time to talk to us Oscar.
Oscar: Thanks Sandro, my pleasure!
---
OSCAR PESAVENTO – EPOCH Motorsport
Age: 43
Located: Bergamo, Italy
Wheel: Simucube Pro + Cube Controls Formula Pro
Pedals: VRS
FOV: VR Valve Index